BLOG / Top 10 Workplace Apps Using Gamification
Top 10 Workplace Apps Using Gamification
June 17, 2020
Innovation is what drives our world forward. And in the corporate world, the recent innovation that got everyone hooked is gamification. To put it clearly, gamification is all about integrating the best game practices with non-gaming tasks in order to boost productivity and learning. You know how a task can easily become tedious in the office. With gamification, mega-corporations and even small businesses are trying to break free from that mold, and make work-life interesting for their employees. Some of the best workplace productivity apps using gamification in 2020 are: 
1. Centrical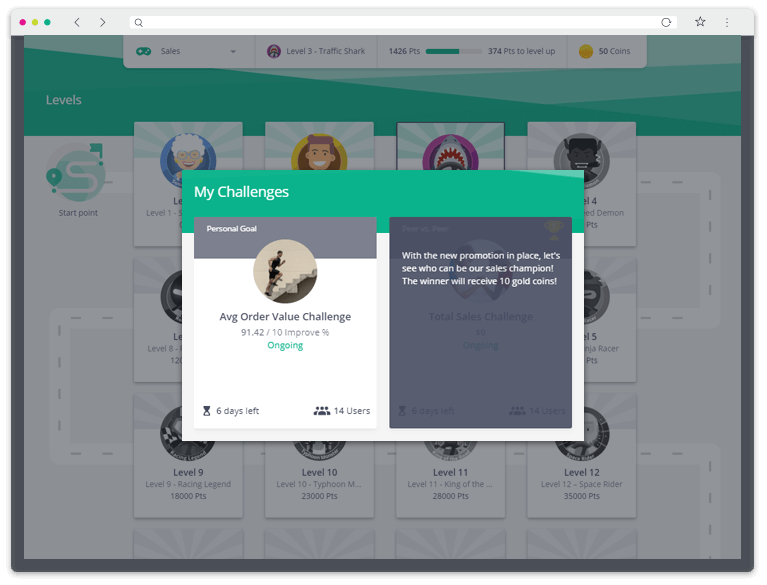 Founded way back in 2012, Centrical was built for enterprises that want to enhance the performance of their employees. 
The main areas it focuses on are:
Onboarding

Services

eLearning

Collaboration

Sales 
Centrical uses quizzes, push notifications, pop-ups, and simulations to help you improve performance.
2. Spinify for Workplace Gamification and Engagement
Spinify adds gamification to every part of your team's day. 
It offers plenty of gamification elements to boost productivity:
Leaderboards

Contests

Points, achievements, and badges

Rewards
Additionally, you can also improve your performance management with:
Complete employee performance profiles

Unique coaching insights
Moreover, if you want your team to be more connected, Spinify offers plenty of ways to improve teamwork – even if you're working remotely!
3. Todoist
Todoist is an app for productivity management. 
It helps in promoting healthy competition among employees and gives them the motivation to finish tasks by assigned deadlines. 
With each task you complete, you get a karma point which in turn leads you to success if you complete everything. You can share this with your colleagues, and keep everyone on their toes, and striving for the best.
4. PerkVille
Another gamified productivity app that is being used by businesses all over is Perkville. 
With its loyalty program and automated reward system for employees and customers, this gamification app focuses on improving customer interaction, lead generation, and social media user engagement. 
The loyalty-based programs engage the employees with healthy competition, and they have brought good ROI to companies like O2 Fitness. 
5. Bounty Tasker
The whole concept of productivity management hinges on tackling your to-do lists. With gamification techniques, it becomes more fun. Bounty Tasker does that and more. 
With its Role-Playing Game mechanisms, your team members are characters tasked with several things to do. With each ticked-off task, you go to the next level and unlock rewards. 
Furthermore, this is specially designed to help people in the workplace as it gets those random tedious tasks done as well. 
6. SAP
Motivating salespeople, the ones who bring in all the money, is not an easy task. This is where SAP introduced its gamification workplace app – Roadwarrior. 
Thus, a salesperson is put on a pseudo-call before the actual meeting with the customer. They just have to answer all the questions, in turn earning points and getting ahead on the scoreboard. 
This not only trains them for their call but also promotes healthy competition where anyone can challenge the winner.
7. Treehouse
If you need to train your employees in particular skills, do it with Treehouse, an online training platform.
Treehouse helps employees improve skills, learn new things, and pick up the knowledge they need with gamification techniques.
Your employees will get badges and points for every level they successfully complete. In addition, at the end of the course, they won't just get reward points, but also a certificate they can display on their resume.
8. QuizGame for Gamified Onboarding
If you want to make your onboarding more fun, check out QuizGame.
This gamification workplace app designed to help you train new employees through a series of gamified quizzes, as well as motivate your existing ones to brush up on the details such as product specifics, and different buyer persona preferences.
9. Plecto – Reward Workplace Achievements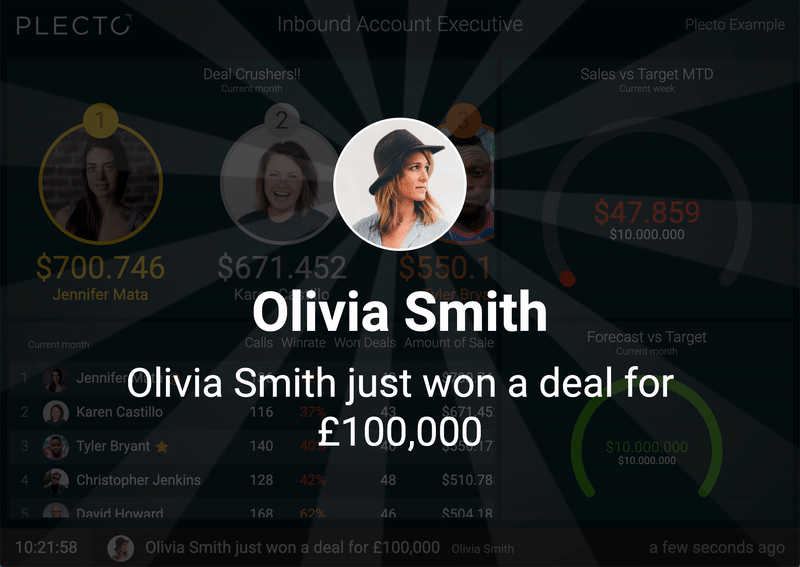 Recognition is the key to success. But if you've got a big sales team, you might not spot every achievement. 
The solution? Plecto.
Plecto tracks real-time data and automatically triggers celebrations for your employees.
10. Habitica
Habitica is the perfect app for small, fun-loving teams.
This workplace app allows you to turn your life into an RPG game, and go on quests that can be completing tasks or picking up new skills.
How Spinify Helps You Gamify Your Workplace
There are plenty of workplace apps that use gamification on the market, and some of them are even made for teams.
Unfortunately, very few have all the gamification elements you need:
Contests

Leaderboards

Coaching insights

Performance and KPI tracking

Points, badges, and achievements

Communication and recognition
But Spinify does!
The complete performance-tracking, gamified platform. Spinify is everything you need to improve your team's performance!

Put those insights into practice.
Set your team up for success by improving their performance through gamification.
---
Back to blog
Help level up your team
June 5, 2023